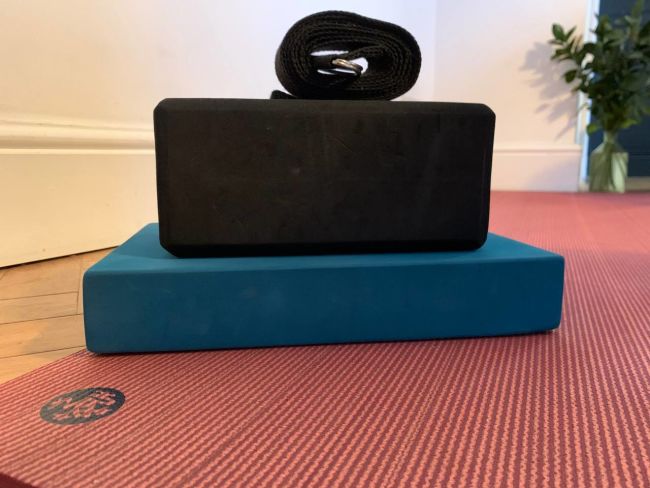 Being Properly Prepared for your Practice 
I get a lot of questions about yoga equipment & home alternatives, so I really wanted to give you some ideas for what you can use for props at home during lockdown.  I will pop some of my favourite yoga equipment below which range from budget through to more expensive. I will also give you ideas for props you can use at home if you're unable to purchase yoga equipment at the moment.   

Using Props
Using props doesn't mean that you're "not good enough" to do the pose on your own, they are there to help support and deepen your practice and to help you get the most out of your pose. Props are also essential for restorative & yin practices, so if you intend on coming to restorative practices it's important you have these ready when you come to the mat. 

Buying Recommendations:

YOGA BLOCKS

Budget: https://www.amazon.co.uk/Tumaz-Flexibility-Anti-slip-Extra-Durable-Instruction/dp/B086V7335C/ref=sr_1_20?dchild=1&keywords=yoga+block&qid=1611479631&refinements=p_72%3A184323031&rnid=184305031&s=sports&sr=1-20

Mid Range: https://www.yogamatters.com/collections/yoga-equipment-accessories/products/cork-brick

KNEE SUPPORTS

Budget: https://www.amazon.co.uk/dp/B07DCVM3TM/ref=twister_B075WCW7TQ?_encoding=UTF8&psc=1

Expensive: https://www.yogastudiostore.com/yogajellies-the-genuine-yoga-pad

BOLSTERS  (we use both of these at the studio)

Mid Range: https://www.yogamatters.com/products/yogamatters-rectangular-bolster?variant=31921139187779

Expensive: https://www.yogastudiostore.com/manduka-rectangular-enlight-technology-bolster

STRAPS

Budget: https://www.decathlon.co.uk/p/organic-cotton-yoga-strap/_/R-p-183211?mc=8502978&utm_source=google&utm_medium=organic&utm_campaign=Surfaces%20For%20Google&utm_content=8502978-2472913&iv_=__iv_p_1_g_63787291140_c_316418792539_w_aud-308557097213:pla-370301141254_n_g_d_c_v__l__t__r_x_pla_y_15177021_f_online_o_8502978-2472913_z_GB_i_en_j_370301141254_s__e__h_9046224_ii__vi__&gclid=Cj0KCQiA0rSABhDlARIsAJtjfCfDVOzFSNXyd1RlLYMJQcvSFOxstI_vj4nSgNhUsO4YRMntxGSXDrYaAt6qEALw_wcB

Mid Range: https://www.yogamatters.com/products/manduka-align-yoga-strap-8

MEDITATION CUSHION

Budget (this is what we use at the studio): https://bluebanyan.co.uk/meditation-zafu-buckwheat-zen-black.html

Mid Range: https://www.greenyogashop.com/en/mod-meditation-cushion-pacific?sPartner=googleshopping_en?number=GY4209

YOGA MATS

Again, I get lots of enquiries about which yoga mats I use personally. I have used so many mats over the last couple of decades and they have had a lot of wear with me being on them every day.  

There is one clear winner for me and my loyal favourite, which is the Manduka Pro (eco friendly too).  Depending where you buy them they can range from £80 to £120: https://www.yogamatters.com/collections/manduka/products/manduka-pro-yoga-mat

My second favourite is Yogi Bare, which a lot of you will know is what we use at the studio. Another eco mat designed by a yoga teacher. They are normally between £60 and £80: https://www.yogi-bare.co.uk/collections/yoga-mats

For the more budget range below £20 (still eco): https://www.johnlewis.com/m-life-mendhi-5mm-yoga-mat-dusk-pink/p4907518

Home Alternatives:

Yoga Blocks – Sturdy Hard Back Books
Knee Support – Folded Blankets
Straps – Ties or Scarfs 
Bolsters – Pillows & Cushions
Meditation Cushion – Cushions 🙂    
I hope this is useful for you and helps you be more creative within your practice.
Sending love & hugs.
Niki xxxx